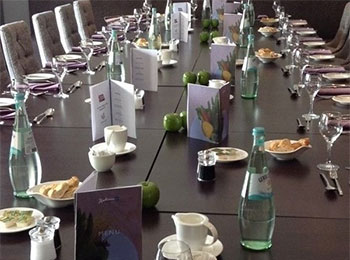 September Luncheon
Posted by Caroline Degen
On 18. August 2020
Due to COVID restrictions, we will be dining in the large Europa function room, located as you walk through the front entrance of the hotel.
The idea is that this will enable us to be sufficiently spread out for social distancing, as per hotel policy. Lucky for us as it's a beautiful setting where we had the Christmas lunch. I'm sure the room will be halved with shutters so we won't get lost in there! Maybe an afternoon dance!
As you may be aware, buffets are not allowed at present so table service will be provided. I have attached the menu below for your perusal. The cost is €27 per person.
Wild herb salad with goat cheese crumble, strawberries, pine nuts
and balsamic vinaigrette
***
Braised beef on Marsala jus, potato cream and ratatouille
or
Grilled cod with herb sauce, potato cream and ratatouille
or
Roast breast of guinea fowl with red wine jus, potato cream and ratatouille
or
Sweet potato pancake with wild mushroom sauce and arugula
***
Lemon tart with raspberry coulis and chocolate ice cream
Please register with Alison S. at luncheons@bwcduesseldorf.org stating your menu choice.
Restrictions on numbers are still in place so please register as soon as possible
Alison Schwidden

Organizer of September Luncheon
Event start in
Event end in
Termin abgelaufen
0

days

0

hours

0

minutes

0

seconds
Veranstaltungsort
Radisson Blu Scandinavia Hotel, Karl-Arnold-Platz 5, 40474 Düsseldorf
Zeitplan

Gäste

Teilnahme

Vorhersage

Kommentare
Wetterdaten sind aktuell nicht verfügbar für diesen Ort
Wetterbericht
Heute stec_replace_today_date
stec_replace_current_summary_text
stec_replace_current_temp °stec_replace_current_temp_units
Wind stec_replace_current_wind stec_replace_current_wind_units stec_replace_current_wind_direction
Feuchtigkeit stec_replace_current_humidity %
gefühlt wie stec_replace_current_feels_like °stec_replace_current_temp_units
angeboten von openweathermap.org