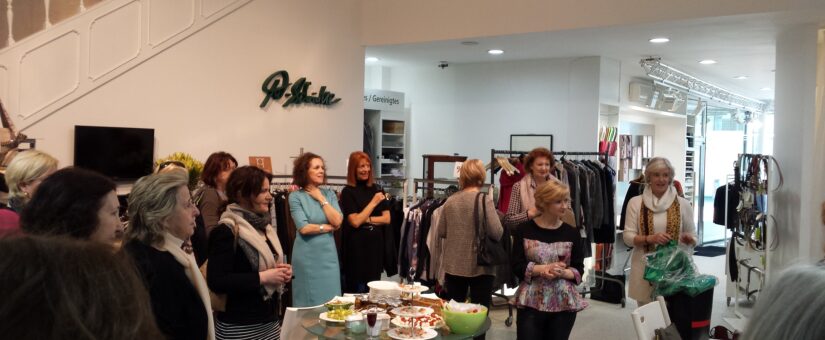 Spring Fashion Event
Posted by Stefan
On 8. March 2016
The preparations for our club's 70th 'Birthday Bash' are truly gaining momentum.
Pat has been giving dancing lessons already, Jayne and H have designed the souvenir tickets, Desiré is looking into the archives, Catherine is has dance routines that she's choreographed for us and Margot organised this splendid Spring Fashion Event.
On the morning of Sunday, 28th February twenty two ladies arrived at "Frauenzimmer"  in Krefeld. It wasn't just a room, it was a house of fashion with a myriad of glamorous evening wear, smart day wear and comfortable    leisure wear to entice and please any lady. And for the fellows there was a section "Männersache", though on this occasion no one was buying for their men folk.
Although somewhat chilly outside, as soon as we entered we were very warmly welcomed by Mr. Alexander W. He and Margot were filling glasses with Sekt. As I was driving I declined and was given a glass of non-alcoholic Peach Fizz, which was just as effervescent as the Sekt and very fruity. Bubbly, soft drinks and coffee later were all very generously provided by the boutique.
Margot, who knows how to host a party, did not disappoint us with lunch.  There were dainty boxes with Tikka drumsticks, jars of cauliflower couscous,  spoons with King-size prawns, tomato with baby mozzarella and cheese with grapes on sticks, salmon and spinach puffs, vegetable and salad strips in cute little bags with various dips, soda bread toast, olives and various bite-size  snacks. It not only whetted our appetite, it was a feast for the eye.
Over lunch there was, as always, a lot of chatter and not only about fashion.We were able to see the latest trends on a TV screen and also past fashion shows from the boutique. Soon a very attractive redheaded mannequin appeared on the screen. It was our very own Margot.
Later we heard that Catherine  has also been asked to model for them when they put on the next fashion show.
Margot introduced us to Couturier Wolfgang S. whom we could ask for advice. If there was nothing on the rails to suit he would be able to create the perfect gown for us in his workshop and there was quite a selection of silks, velvets and other materials to choose from. He announced that some items in the boutique were reduced and anything that was not he offered 10% off. But he said there was absolutely no obligation to buy and that some of the ladies had brought along items for sale or exchange and they were all on a rack for us to look through. I suppose you could call this rack "The Frock Exchange".
My daughter, Siân, was with me and she managed to find a delightful little black dress. It was perfect on her and it was reduced in price which equally pleased her. I saw Carole try on a sparkly black top with long sleeves which looked fabulous on her. It would complement any black skirt or trousers. Everybody had a turn in the changing room.
It was such a girlie get-together and there was always someone on hand to help with difficult zips or give their opinion.
After we had tried on various things, bought something or exchanged  garments, all in a very relaxed atmosphere, it was time for coffee and cake. H had kindly brought along cheesecake and chocolate cherry cake for us and Mr. W. made each of us a delicious cup of coffee on his state of the art coffee machine.
It was such an enjoyable day out and we were looked after so very well by Mr. Alexander W. and Mr. Wolfgang S.
Thank you, dear Margot, for organizing such a fun event and providing us with a delicious lunch. It really got us thinking of what to wear for the Birthday Bash and some of us were even lucky enough to get it at this event.
April 2016 / Joyce