Pre-Loved Clothes Sale – 20. November 2021
Posted by Sandra
On 20. November 2021
We arrived on a murky Saturday afternoon at Alison's house in Monheim. We were immediately greeted with smiley faces from behind the desk in the from hall. There was a buzz around the place and lots of laughter coming from various rooms.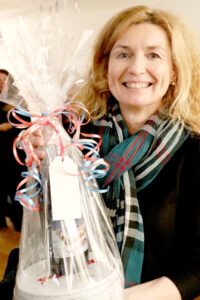 Our names were duly registered and we checked in on the corona warn app (safety first ! ). Then we bought our raffle tickets and were ready to go in and browse the rails. So much stuff!! It was like an Aladdins cave. I didn't know where to start but I did… lo and behold I had found within three minutes two practically new jumpers. My first thought was who wouldn't want these?? They are lovely! So I duly bought them and thought well that's good that's me done. But no! There were more treasures to be found…a hat perfect for dog walking and a beautiful dress that was too big for Nicola but fitted me perfectly. Whoever donated these…thank you!
Next I wondered over to a stall that Becky was looking after and bought 2 NEW pashminas. One of them will be a gift for my mother at Christmas. Anita K also had a rail of her lovely wares.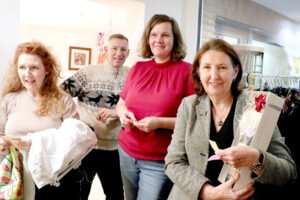 The buffet was huge full of delicious delights kindly brought and donated by members. Joyce had made scones (to die for), there was a delectable Barabrith welsh cake made by Ally, Sheena made her now famous sausage rolls, Becky provided a cheeseboard, Irene made an amazing banana bread, Janet provided the lemon cake (mmmm yum yum), Catherine brought her cheese and fruit sticks and Alison provided the Sekt and sandwiches. I hope I haven't forgotten anyone but really it was a fantastic spread. Thanks also go to Diana and Jean for their expert sandwich making skills!!